LINEAR
Local Intelligent Network and Energy Active Regions
The Linear ('Local Intelligent Network and Energy Active Regions') project is a large-scale research and demonstration project on innovative smart grid technologies in Flanders. It is a top-down project aiming to activate domestic demand response to facilitate the integration of distributed (renewable) energy resources in the low-voltage network. Within Linear, Demand Response (DR) stands for the participation of residential end users in the provision of services to different power system participants in the form of an injection/off take decrease/increase.
The objective of the Linear project is twofold:
Linear aims at developing the required technical solutions (e.g. communication between appliances and home energy management system, technology for the remote control of smart appliances, data management, etc.) to realise a technological breakthrough of domestic DR. Linear also tests the developed concepts in real residential settings. The project involves different types of flexible energy resources installed at consumers' premises: electrical appliances, distributed generation and thermal and electric energy storage systems.

Linear also looks at possible future energy market structures and potential business cases to validate the flexibility available at the end users' premises. Four business cases for domestic DR are explored during the project. Two of these cases are tailored to the interest of the retailer / balance responsible partner (BRP), i.e.

"portfolio management" (optimization of electricity purchases and sales on the day ahead market by means of DR) and

"wind balancing" (reducing the intraday deviations between predicted and measured wind power generation by means of DR).
The DSO is the party concerned in the other two cases, i.e.
"LV transformer load" (avoiding peak loads on low voltage transformers by means of DR) and

"LV feeder voltage profile" (managing the voltage profile of low voltage feeders by means of DR).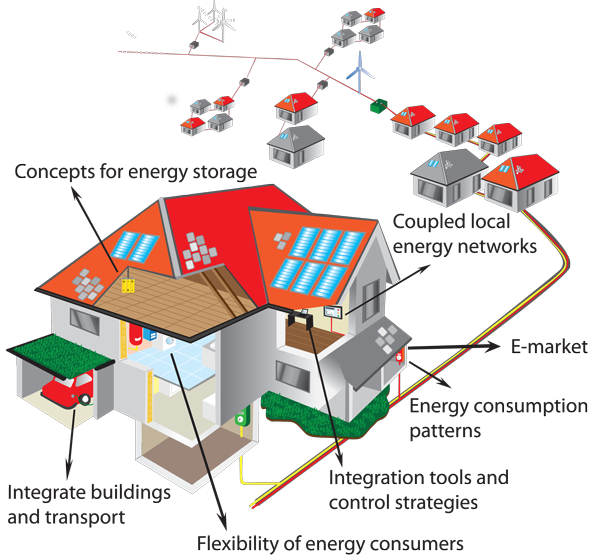 Picture: Schematic picture exemplifying different technologies tested in the Linear participant families, source:
www.linear-smartgrids.be
Linear aimed at generating an implementation breakthrough that would be valuable for the commercial roll-out of smart grid technologies in Flanders. This is evident from a number of the project's features:
Linear did include some new technology development (and an extensive phase of technology validation before the start of the actual field test), but the project worked with commercially available systems to a maximum extent possible (an energy management system developed by Fifthplay, the Miele@Home communication system, and the smart meters rolled out by the DSOs Eandis and Infrax). These partners implemented additional features in their systems in order to support the business cases that are tested in Linear;

Linear aimed at the participation of a sufficiently large and statistically representative sample of households in order to draw relevant conclusions on e.g. end user acceptance and amount of flexibility that could be supplied by DR;

Through the investigation of business cases, Linear aimed at providing information on the technological and economic value of flexibility for the different actors participating in the electricity system (e.g. retailers, BRPs and DSOs).
Both the technical solutions as well as the business cases were implemented in a pilot engaging about 240 Flemish families. The participants of the field trial were split in two groups. For each group a different reward system was tested during a period of 12 months: 'Time of Use' (ToU) tariffs (in 6 time blocks, tested by about 25% of the participating families) and 'Flexibility' (Flex) (remote start of smart appliances within user-defined constraints – tested by about 75% of participating families). The following equipment was integrated as part of the Linear demand response system: smart meter, Home Energy Management System, sub-metering plugs, display/web service, PV installation (only if already installed – this was the case in about 40% of houses) and for the participants offering automated active demand, smart appliances (dish washer, washing machine, tumble dryer, domestic hot water buffer, electric vehicles). The field trial started in spring 2013 and concluded in October 2014.
When the collaboration between S3C and Linear started (early 2014), all of the Linear technology had already been rolled out and the DR experiments with household participants were up and running. Therefore, the Linear project manager suggested two areas where support from S3C could be welcome:
Linear still had a budget available for giving additional incentives to end users to offer more flexibility. This money could be used in the final project phase to try out new means to get people motivated to offer more flexibility. S3C could give ideas on possible incentives to increase engagement in the final project stage. A possible collaboration on this point was however not implemented. It was decided that changing the incentives towards the participants would make the analysis of the results more complex. For this reason no change in the remuneration models was implemented

Another request was to help Linear with establishing contact with households that lost their interest in the project along the way. It was interesting for Linear to know the 'story behind' their loss of interest. Linear was interested in further qualitative analysis about how end-user engagement was perceived by the end users themselves. In order to get to the 'storyline' behind this (lack of) engagement of certain end-users, qualitative research going beyond the use of a questionnaire would be needed.
The second suggestion was taken up and further worked out using the "Evaluation through end-user centred KPIs guideline as an inspiration to develop an interview protocol for probing end-user experiences.
In addition, the "Using segmentation to better target user groups" guideline and tool were used by S3C researchers to get a better overview of the profiles of the participant families. In the current application, we aimed to test to what extent the understanding of Linear participants in terms of the 6 segments identified by the segmentation tool can contribute to explaining and understanding observed end-user response, both in terms of their stated attitudes towards smart grid products and services and in terms of actual flexibility offered.
Download
---
Upcoming events
---
Supporters